Vintage Venue: UC Davis Crocker Lab Celebrates 50th Anniversary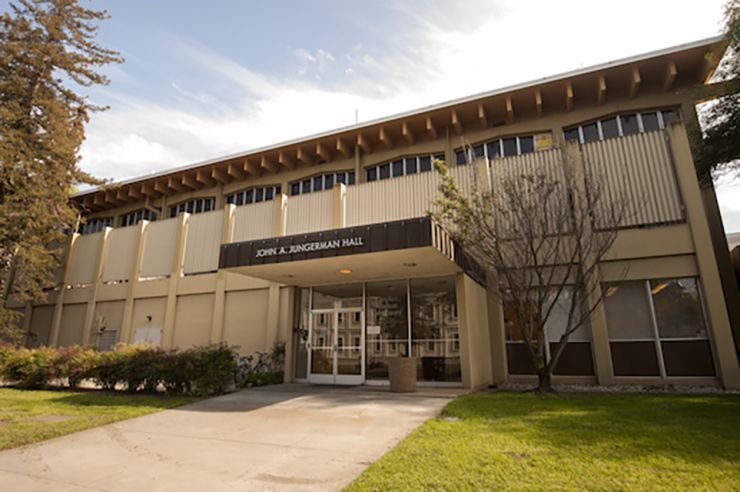 Stepping inside the Crocker Nuclear Laboratory control room is like transporting onto the set of a 1960s sci-fi flick. Bakelite knobs and flashing switches parade across sofa-sized control banks.
But control room operator Randy Kemmler has a more modern analogy. "I feel like I'm in The Simpsons," said Kemmler, referring to the Springfield Nuclear Power Plant, where Homer Simpson dozes and drools. "All I need is the dozen doughnuts."
The vintage controls run a 50-year-old cyclotron, one of the few particle accelerators of its kind still working in the United States. Tucked inside a modest building in the heart of the UC Davis campus, the Crocker Nuclear Laboratory opened in April 1966.
Past and present employees recently gathered to celebrate the cyclotron's five decades of discovery and innovation. During the event, historic photographs lined the walls of the lab's tall cargo bay, and tours revealed atomic-era machinery still at work.
"There is a lot of significant history here," said engineer Brian Devine. "Crocker Lab is one of the best-kept secrets on campus."
Early work at Crocker Lab focused on basic nuclear research — the physics of neutrons and protons. But UC Davis scientists rapidly branched out into new areas, including air quality, medical treatments and spacecraft radiation testing. This diversity helped the lab weather times when money was tight.
"A facility like this could have never survived with a single story," said retired research chemist Manuel Lagunas-Solar. "The key to success was flexibility and versatility."