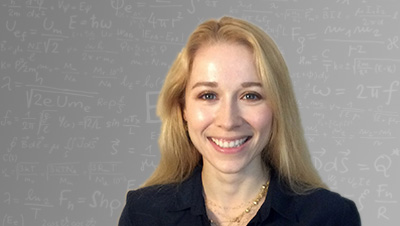 Congratulations to Inna Vishik for her selection as a 2022 Dean's Faculty Fellow!
A condensed matter physicist, Vishik centers her research on identifying and understanding electronic properties of quantum materials — compounds which are characterized by new phenomena that emerge when many electrons from many atoms all interact with one another. One such phenomenon is superconductivity, the remarkable loss of electrical resistivity exhibited by some materials at low temperature. Some superconductors are already well understood and used in existing (MRI) and nascent (quantum bits) technology, while many other types of superconductors have no established explanation as to why they become superconducting. The fellowship will support research on the latter: unconventional superconductors, where electrons' motion can yield clues about why they become superconducting below a critical temperature.
The three-year fellowships are part of the College of Letters and Science Faculty Investment Initiative to support early faculty research excellence and development. Each three-year fellowship provides a faculty member with $22,500 and is supported entirely by private funding. Each fellow will also give a public talk about their research.