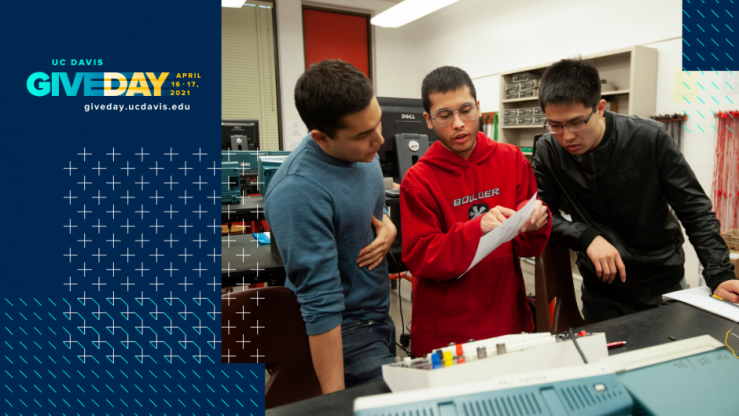 This Give Day 2021, generous donors have the opportunity to transform our students' lives. Please consider supporting our Give Day Challenges described below. A gift of any amount will make a big impact, and it will help our College come out on top to win the UC Davis Battle of the Colleges!
UC Davis Give Day is a 29-hour online fundraising drive to support initiatives at UC Davis. Our fifth annual Give Day will be held this year on April 16-17, coinciding with our Picnic Day celebration, which will be online due to the ongoing pandemic. As always, the goal of Give Day is to bring our community together to celebrate the Aggie spirit by sharing, following, or financially supporting programs that have made an impact on the lives of people everywhere.

Liquid Helium Laboratory Challenge
The helium recovery facility, located in the basement of the Physics Building, uses state-of-the-art technology to recover approximately 90% of the helium used for research by the Physics & Astronomy Department. Helium is a non-renewable resource that has become increasingly expensive and difficult to acquire, but is absolutely vital to many of the cutting-edge experiments conducted in the department. Ten gifts to this fund will active $5,000 and advance green tech for the university.

Physics & Astronomy Opportunity Award Challenge
Physics and Astronomy Opportunity Award
This new graduate award challenge aims to reduce barriers to education faced by students, including those from groups historically underrepresented in physics and astronomy. Department Chair Rena Zieve will contribute $50 for every current UC Davis Physics and Astronomy graduate student or undergraduate major who donates to this fund on Give Day.

Quantum Mathematics and Physics Challenge
Quantum Mathematics and Physics
The Quantum Mathematics and Physics (QMAP) Fund will be used to support vibrant high-level scientific activity, including an active visitor program and workshops/conferences, as well as recognition and recruitment of stellar students and postdoctoral researchers. Such funds will help QMAP attain international renown, becoming a destination of the top world experts in the field. Ten gifts unlock this challenge.
If you would like to support our program in other ways, consider making a tax-deductible donation via https://give.ucdavis.edu/PHYD. You may select one of the associated funds listed there, or for an unrestricted donation, select the "Physics General Support" fund https://give.ucdavis.edu/PHYD/PHY0004
If you would like to consider gifts to a particular program or endowment fund, please contact our department chair. Call (530) 752-4086 or email chair@physics.ucdavis.edu to schedule an appointment.
If you are interested in making a gift of appreciated securities, equipment, real estate, or to make a deferred or planned estate gift, please contact Charlene Mattison at (530) 754-2225 and by e-mail at cmattison@ucdavis.edu.
#ucdavisgiveday #everyaggiecounts #AggiesHelpingAggies

Link to our giving page: https://giveday.ucdavis.edu/giving-day/34890/department/34897